This beach-side resort in Mexico has a gorgeous infinity pool, six restaurants, kids' area with pool and dozens of complimentary chairs and umbrellas on the beach.
All the rooms face the water and have balconies and large marble bathrooms. It has the largest spa in the area and huge fitness room, indoor lap pool and juice bar.
Three more things made this resort even more special:
• Tequila tasting is included in the resort fee.
• You can book a special gourmet dinner in the Herb Garden.
• You can choose the all-inclusive option for your entire stay or just part of it.
Where: Marriott Puerto Vallarta Resort & Spa; Puerto Vallarta, Mexico,
What makes it special: The food and beverage offerings, optional all-inclusive and location near the airport.
Dining at Marriott Puerto Vallarta Resort & Spa
I walked toward the Herb Garden at the Marriott Puerto Vallarta and giggled with delight. The long custom-made wooden table was laid out for our Sensory Dinner experience and my sense of sight was immediately captivated by the gorgeous setting. I guessed I was about to have one of the most memorable dinners of my life and it far exceeded my expectations.
Every course was designed to engage all your senses and each of the five courses was presented in a way I'd never experienced before.
For example, our first course, tuna crusted with five chiles and Mexican chocolate, ponzu sauce, and roasted pineapple, was presented in a rectangular acrylic dish filled with water with a seashell, flowers and greenery as decoration. It was as delicious as it was beautiful.
Our second course came to us in a box and I felt like a kid at Christmas, anxious to find out what was inside. When the server took the top off of the box, smoke escaped from the grilled octopus inside, the fish designed to engage our sense of smell.
My eyes lit up every time I saw the efficient and friendly wait staff heading our way with another course, despite my waning appetite after eating every bite of every course. And then there was a new wine to try with each course.
I loved how the short rib was surrounded by carefully cut and artfully placed vegetables. The baby corn was standing up in homage to the main dish – way to show respect, baby corn!
Chef Luis Navarro was at our dinner explaining our courses to us. "The mole sauce for the short rib has more than 100 ingredients," he told us. Guess I won't be making that at home.
Our lovely dinner was an option with the Gourmet Moments program for guests who want to add a special one-of-a-kind dinner to their vacation. It also includes Dine Around Mexico dinner with items like lime soup, crab enchiladas, avocado sorbet and skirt steak brochette and Jalisco at Your Table, a seven-course menu inspired by recipes from the chefs' childhoods.
Guests can also arrange a wine-paired dinner, a tequila-paired dinner or a private romantic dinner.
Other Dining Options at Marriott Puerto Vallarta Resort & Spa
The resort has six restaurants and I managed to eat in 5 of them, primarily Las Casitas, which is the open-air restaurant by the water serving breakfast, lunch and dinner. Be sure to get the guacamole made tableside. This restaurant also serves the pool and beach area.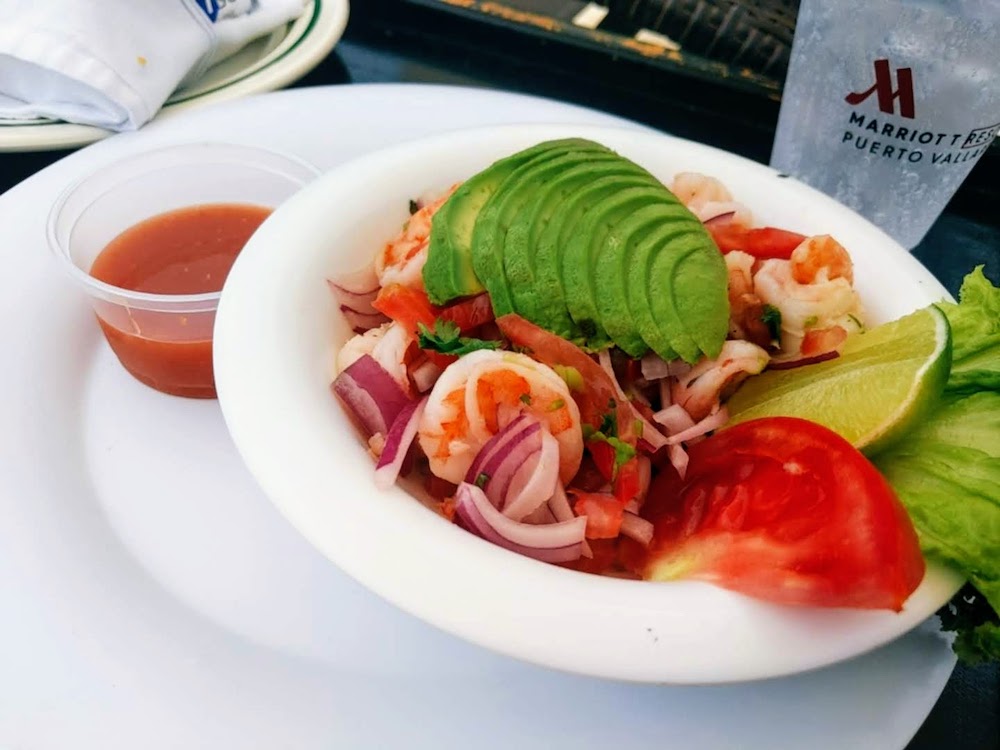 I'm not very good at day drinking, but made an exception here and ordered a mojito and ceviche from my lounge chair at the pool.
Also by the pool is the Coco Bar where you can refresh with fresh coconut water or a fancy coconut juice-based cocktail.
La Estancia is the casual Mexican restaurant, which is primarily indoors with an outdoor patio, and serves breakfast and dinner. Here's the spot to get your chilaquiles with your choice of toppings in addition to the usual breakfast fare.
One night we were thrilled by the flying knife skills of our chef at Mikado, the Japanese table-side hibachi restaurant. I've been to a lot of these places but credit him as having the best knife skills I've ever seen. Despite my close proximity to those flying knives, I wasn't concerned about losing an ear.
In addition to the delicious hibachi meal, we had some amazing sushi here, one of my favorite things from the resort.
A great place to grab a cocktail, sip on a tequila and enjoy some ceviche is the Ceviche & Tequila Bar. We had some signature drinks one night, which included tiny appetizers like a small taco perched on top of the glass.
I enjoyed a glass of wine, live music and delicious appetizers at Nosh Sunset Bar + Bites, located on top of the swim-up bar and the best place to watch the sunset.
For a quick bite or a coffee go to Deli Los Mangos right off the lobby. And if you're in mood for ice cream, stop at The Ice Cream Shop.
The only place I didn't make it to was Champion Sports Bar where you'll find American bar food, pool tables and lots of big screen TVs.
Have it Your Way – All-Inclusive or Not
I love you have a choice of whether you want your stay to be all-inclusive or not. I've heard of that option before, but I hadn't heard of the ability to make part of your stay all-inclusive.
At Marriott Puerto Vallarta you have that option. With all the food choices here, you won't get bored of eating here. But maybe you want to explore restaurants in town of visit friends in the area. You can opt to not be all-inclusive for just a few days.
Learning About Tequila
Marriott Puerto Vallarta is so serious about its tequila, it has its own proprietary brand of tequila called CasaMagna, a "tequilier" on staff and tequila tastings included in the resort fee. And you'll find blue agave growing in the cactus garden.
Audrey Formisano is the tequila sommelier who leads the tequila tastings held in La Cava wine cellar that are included with the resort fee, usually held on Tuesdays and Thursdays.
When you hear she's originally from France, you think wine. But she moved to Mexico and fell in love with tequila. She attended Mexican Association of Tequila and loves sharing her passion and knowledge of the agave-based alcohol.
Forget the salt, lime and throwing shots. During our tasting we were encouraged to sip and savor.
Marriott launched its own brand of tequila, CasaMagna in 2006, with labels and bottles handmade locally. It is only available at Marriott Puerto Vallarta.
If you're with a group, you can arrange a private tequila tasting with 24 hours-notice and an additional fee. To really make it special, ask to book it in the Herb Garden. It's a magical setting.
Accommodations at Marriott Puerto Vallarta
The first thing I do when I get to a hotel room is look at the view. After getting to my room at Marriott Puerto Vallarta, I stepped out on my balcony and was rewarded with the site of the large infinity pool, the El Salado beach, the gentle waves on the Banderas Bay and the Sierra Madre Mountains in the background. Doesn't get much better than that.
If you visit from December to March, you may catch a glimpse of humpback whales that travel through here, with estimates that as many as 2,000 pass through the bay during those months.
I loved my room, with a sofa, desk with chair and super comfortable bed. The resort has 433 rooms and suites all facing the bay with a balcony or terrace. The 28 suites have a separate living room and sofa bed
Staying Fit: Spa, Fitness Center and Golf
What's a resort without a spa and golf? (I'm talking to you, NYC hotels that charge a "resort" fee. We all know how bogus that is!)
Golfers can tee off at the nearby Marina Vallarta Club de Golf, the oldest golf course in Puerto Vallarta and designed by American Joe Finger.
With 22,000 square feet, Ohtli Spa is the largest in the city and includes traditional spa treatments as well as Thai massage and treatments inspired by the local Huichol tribal culture.
It's one of the few places in the world where you can get Jantzu Rebirth Therapy, which consists of meditation and relaxation in a womb-shaped pool.
I was transported to a state of bliss during my Fine Opal Balancing Stone Therapy, truly one of the best massages I've ever had. If you've never had a hot stone massage, do yourself a favor and try it.
Prior to my massage I enjoyed the wet area, with sauna, steam room, Roman tub and a foot bath, steering far clear of the cold plunge pool. I don't do cold water.
There's also a large, very well-equipped fitness center and an indoor lap pool. After all that exercise, you can stop by the juice bar just outside the fitness center to refuel.
The Pool, Beach, Activities Center and Kids' Area
The infinity pool is beautiful and has some built-in lounge chairs for relaxing in the water.
I really appreciated that I never had to wait for an empty lounge chair at the pool or at the beach – there always seemed to be plenty available.
You can grab towels, rent kayaks and paddle boards, and buy sunscreen and water toys at the Activities Center by the pool.
And when you get thirsty, there's a swim-up bar that has swings on the dry side.
There's a separate shallow pool for the kids along with a play area. You can enroll your kids in the Kids Club for $30 a day, which includes activities like Spanish lessons, cooking lessons, pottery painting along with lunch and a T-shirt.
If you're visiting between June and November, ask about the sea turtle rescue program. Biologists commissioned by Marriott comb the beaches for nests and protect them until it's time for them to return to the sea. Children can name one of the tiny turtles and watch as they are set free.
Prime Location Near the Airport
One big plus for me was the close proximity to the airport in Puerto Vallarta. (Full name: Licenciado Gustavo Díaz Ordaz International Airport)
I timed it when I left the resort. From the time the driver pulled out of the driveway to the time he dropped me off was seven minutes. I was at my gate in 30. I've been to resorts where you have to drive up to 90 minutes or so to arrive.
Yes, it's usually been worth it to stay in an amazing place. But I also appreciated having that extra time to drink in the paradise of the beach in Mexico.
For more information visit www.puertovallartamarriott.com
— Jan Schroder, Editor-in-Chief