– By Jan Schroder, Editor-in-chief
Follow Jan on Instagram
Oxford, Mississippi, is a "great little town, with a lot going on," according to one local business owner. That was a good summation of my experience, which in addition to taking a shot of whiskey at William Faulkner's grave, included dining on food prepared by James Beard award winners, listening to authors reading from their works at a live taping of a radio show and trodding on pink hardwood floors at the collegiate-themed Graduate Hotel. Those were just a few of the amazingly fun things to do in Oxford, MS.
One of the fun things to do in Oxford, MS, that you can't do anywhere else: Take a shot with a world-famous writer.
Oh, the hours I spent agonizing over that man in college. His words were incomprehensible to me, his motives unfathomable. What did he mean by that? I asked myself that question over and over, crouched in a near-fetal position in a cubicle, on my couch, at the pub.
During my trip to Oxford, we had a drink together and I made my peace. Never mind that he had passed away in 1962 and technically, I was the only one doing the drinking. I was at William Faulkner's grave, downing a shot with the old man whose novels and short stories caused me so much grief.
Our relationship dated back to my days as an English major at the University of Virginia, where Faulkner served as the school's first Writer in Residence in 1957 and 1958, and whose works were still revered years later when I studied there.
A famous award-winning writer, his arrival at Virginia was eagerly anticipated. He surprised a few folks when he stated, according to Virginius Dabney in "Mr. Jefferson's University." "He liked the state, he said, 'because Virginians are all snobs and I like snobs.'"
So I knew I had to pay homage to him when I at long last visited Oxford, which has to include taking a shot with him at his grave, an Oxford tradition.
Go any day of the year to his grave and you'll find it filled with mostly empty airplane-sized bottle of various types of whiskey, some tilted precariously as if the imbiber may have had a few already. It's customary to have a drink with him, then pour a bit of whiskey on his grave so he can enjoy his beverage of choice as well.
Maybe visiting a grave wasn't top of on your list of fun things to do in Oxford, MS, but trust me, you'll want to see this one.
Whether you've read a word of his or not, visit his home at Rowan Oak, one of the most amazing things to see in Oxford, MS. (If you do want to read some of his work, don't start with "Absalom, Absalom!" Trust me.)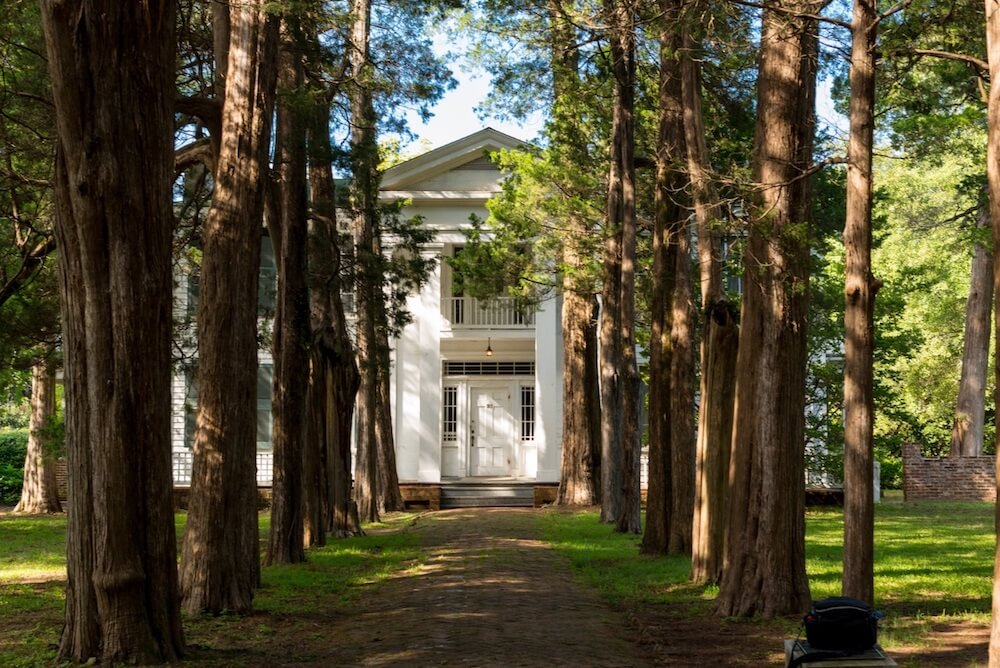 Tucked back into a residential neighborhood, the stately home sits on 29 acres and is open daily year-round. You can visit the grounds for free, which includes lovely gardens, but for a visit to the home a $5 admission is charged.
It's cash only, which seems to be the bane of existence for the hilariously honest curator, Bill Griffith, who claimed it's because the university doesn't trust him with a credit card machine.
He also regaled us with tales of Faulkner, including the fact he wasn't the most faithful of husbands, and that he didn't believe in air conditioning. Apparently shortly after his funeral, his wife, Estelle, came home and promptly AC'd the heck out of the 1844 home.
With the exception of that welcome addition, the home is pretty much as it was when he lived there. In the kitchen you can still see phone numbers scribbled on the wall – why use a notepad when the wall is so inviting and you will never wander around your home saying, "Where is that piece of paper with my publisher's number?"
After being thrown from a horse, Faulkner moved to a bedroom on the main level of the home, which you can view just as it was, his typewriter sitting on the desk and the outline for a novel scribbled on the walls of his room. Again, never gonna lose that outline when it greets you upon waking every morning.
You can see plenty of his possessions throughout the home – pipes, eyeglasses, books, photos – and listen to recordings of his voice. If you haven't read much Faulkner, Bill recommends starting with "The Portable Faulkner" as it contains some criticism that helps enlighten his sometimes convoluted prose. "Faulkner novels are meant to be heard, not read," he said, calling his style of writing first-person narrative. If only I'd had the option to listen to his words back at the University of Virginia as I slogged through nearly incomprehensible sentences, some of which went on for close to 400 words. Can somebody buy that guy a period?
Dine on food prepared by James Beard award-winning chefs or dig into a fried oyster breakfast scramble.
Oxford recently topped the list of best food towns by Southern Living and after just spending a few days here, you'll know why. Whether you prefer fine dining or chicken on a stick at a gas station, you can get it in Oxford.
Yep, chicken on a stick at the 4 Corners Chevron is a beloved dish. While I didn't have a chance to enjoy that delicacy – I do love me food on a stick – I did indulge in fine dining and against one of my life's philosophies, tried to down a biscuit bigger than my head. Another place I didn't get to try is Handy Andy's Grocery, a red-roof dive looking place that reportedly has the best barbecue in town.
Here are a few of the places where I had the pleasure to dine.
Saint Leo. This is your spot for upscale pizza, assembled in the open right in front of the wood-burning fire. Owned by Emily Blunt, (not the actress) Saint Leo was named a Best New Restaurant semifinalist by the James Beard Foundation. The bruschetta, salads and pizzas are fabulous. Be sure to start with a bowl of house-marinated olives.
Ajax Diner. It claims to be one of Eli Manning's favorite restaurants. (Not up on sports? He was the quarterback at Ole Miss from 2000-2003 and is a member of the Mannings, the first family of football.) I can see how anybody would fall in love with this soul food restaurant right on the Square, the heart of Oxford. With items like Turnip Green Dip, Po-Boys, Hot Tamale Pie and Southern Fried Catfish, you'll be in heaven if big eatin' is your thing. And yes, mac and cheese is listed as a vegetable, like any self-respecting southern food establishment.
City Grocery. One of the reasons Oxford has become such a foodie town is due to Chef John Currence who opened City Grocery on the Square in 1992, followed by several other acclaimed restaurants, and won a James Beard Foundation award for Best Chef South in 2009. If white table cloths and candle-lit dining is what you're looking for, make a reservation here. Oyster lovers will want to try the cornmeal fried oyster. Other items may include shrimp and grits, pork belly, duck breast or pan-roasted catfish.
Big Bad Breakfast. Another John Currence restaurant, Big Bad Breakfast boasts a menu that intimidated/thrilled/delighted me. Let's start by saying it includes Big Bad Libations proudly displayed right up top with hearty drinks like Pimm's Cup, Buena Vista Irish Coffee and its version of a Salty Day, the Sandy. That was my first indication this wasn't the usual breakfast place.
I started with the section called Chef John Currence's Breakfast Picks for Attractive Folks on the go, because after all, I had applied make-up and my lovely shade of Scarlet Night lipstick so I thought I might pass. Plus, the lighting was dim, and was anyone really going to challenge me on that?
After perusing all sections of the menu, from omelets and eggs to lean plates and cathead biscuits, I went for the one of the skillets, because who can resist a dish advertised as "conceived in love and baptized in a touch of butter"?
I got the Yard Work, with two eggs scrambled, lots of veggies (thankfully, no mac and cheese), sweet potato hash and cheese. I gave it my best effort, at least one that would allow me to fit in my clothes on the way back, and made it through about a quarter of it. The biscuit, which violated my policy of never eating anything bigger than my head, proved too much for me, and a bite of that was sufficient.
Big Bad Breakfast has expanded throughout the South, with locations in Florence, Homewood and Birmingham in Alabama; Inlet Beach, Florida; Charleston, South Carolina and Nashville, Tennessee.
Oxford Canteen. This small gas station turned into a breakfast taco and sandwich place won a place in my heart for its simple décor, delicious tortas, the "eat like you mean it" slogan and because it's where we had breakfast with John T. Edge.
If you have read much of anything about southern food, you have heard of this incredibly gifted writer who moved to Oxford more than 25 years ago. He told me he left a corporate job that was "financially but not morally satisfying."
He found his calling in writing about food, saying he loved a barbecue joint as a child and realized food culture was a way to think about the South. He helped found the Southern Foodways Alliance, an idea he conceived while a graduate student at the University of Mississippi. The organization celebrates and explores the culture of food in the South and hosts several events throughout the year, including the symposium in the fall, which sells out faster than a Taylor Swift concert.
"In Oxford, food matters a great deal," he said. "You'll find some surprising interpretations of southern food here."
Later that day, I made my way back to Square Books to purchase a copy of his book, "The Potlikker Papers: A Food History of the Modern South."
Proud Larry's. Scott Caradine and his wife Lisa opened Proud Larry's, a popular pizza joint on the Square, in 1993. In addition to serving fresh pizzas, salads, sandwiches and pastas, the focus here is on live music. He has hosted artists like Warren Zevon, Elvis Costello and John Mayer and the brick walls of his expansive restaurant are covered with concert posters from the past two decades.
If listening to music here gets you in the mood to extend your listening party, head across the Square and up the stairs to a good old-fashioned record shop, End of All Music, where owner, David Swider, hosts after parties and told us, "We're in a defining moment of records making a comeback."
I'm doubtful that all those 1970s records stored in our garage have survived the conditions they've been subjected to, but I suppose it's comforting to have our own copy of Rolling Stones albums, warped though they may be.
Visit the most influential book store in the country.
Yes, I said book store, and it's not the most interesting and influential just because its competition is dwindling by the year. Square Books hosts more than 160 author events a year. If an author has a book tour, you can bet they will be making their way to Oxford and Square Books, where then-resident John Grisham had his first book signing.
The name comes from its position on Courthouse Square, the hub of Oxford and referred to as just The Square.
Be sure to check out the huge first edition selection, then settle down on the porch upstairs with a cup of tea and a book to read. You'll feel smarter just being there, I promise.
Richard and Lisa Howarth opened the store in 1979 and have since expanded it. They added Off Square Books a few doors down in 1993 and Square Books, Jr. in 2003, carrying children's books.
I asked him what made his bookstore so influential and he gave credit to Willie Morris, a writer and editor, who came to Oxford in 1980, the same year the Center for the Study of Southern Culture opened at Ole Miss. "He brought a lot of writers here, including a lot of African-American writers," Richard said. "We had a real dynamic in the beginning thanks to lots of friends in the early days."
He claims those were magical days in Oxford. "Back then we had two restaurants. Twenty years ago, you wouldn't move here if you didn't have a job or family here."
Speaking of Off Square Books, it hosts the weekly live taping of Thacker Mountain Radio Hour, where you'll hear live music and nationally known authors reading from their works.
It's kind of like "Prairie Home Companion" for residents of Mississippi but with fewer sound effects. Or an allegedly creepy former host. Richard named the show after a nearby fire observation tower on Thacker Mountain, which at 700 feet, isn't so much a mountain as a hill that had a good PR firm.
Founded by Richard and two Oxford musicians in 1997, the show is recorded and broadcast at 6:00PM on Thursdays, then broadcast again at 7PM on Saturday on Mississippi Public Radio. And it got picked up by Alabama Public Radio so its reach is spreading. You can hear 12 shows in the spring, 12 in the fall, and then 5-6 that are taped on the road.
While admission is free, it's good to get there early to snag one of the mismatched wooden chairs set up across the floor of the bookstore where cases of items have been shoved aside to accommodate them.
I've been on the radio as a guest a few times, in a studio or by phone. And I attended a taping of "Wait, Wait, Don't Tell Me," in a 2,750-room theater. But I'd never attended a live show like this one, a small intimate audience where it felt like they were performing just for us. The small crowd was fidgety with anticipation before it started, then the house band revved up the energy with their rockabilly tunes. Their name? The Yalobushwhackers.
As is common in Oxford, the host Jim Dees is also an author, and melodically introduced the musical acts and authors reading from their books, while maintaining the flow of the show.
The night I was there I heard Tommy Bryan Ledford and the Accumulators (a Thacker cofounder) and singer-songwriter Victoria Jones, a small woman with a powerful voice. The authors Madeline Miller ("Circe") and Leah Stewart ("What You Don't Know About Charlie Outlaw") read from their books and immediately had me making mental notes to add them to my to-read list. One of the books involves turning men into pigs. Make of that what you will.
There's nothing quite like hearing live performances, whether it's music, theater or authors reading and I loved it. As my daddy used to say, "We enjoyed every thrill-packed minute."
The hour passed way too quickly and as soon as it was over, a request was made for guests to fold up their chairs, and the room quickly emptied out. We stuck around to meet Victoria Jones and let her know how much we loved her voice.
Visit one of the "most astounding university museums."
I have to agree with the University of Mississippi Museum being named several years in a row to a list of most astounding university museums. I was astounded to see its amazing exhibits that include The Seymour Lawrence Collection of American Art with a significant Georgia O'Keefe painting and the Greek and Roman antiquities.
There's a great collection of southern folk art and the Millington-Barnard Collection of Scientific Instruments has around 500 instruments that were used to teach Ole Miss students in the mid-19th century.
In addition to managing Rowan Oak, the museum also oversees Bailey Woods Trail and the Walton-Young Historic House. Bailey Woods Trail is a heavily wooded trail that links from Rowan Oak to the University of Mississippi Museum, about a 20-minute walk where Faulker used to stroll.
Unlike the grand Rowan Oak, the Walton-Young Historic House is a typical middle class family's home from the Victorian era, built in 1880.
Another museum worth a visit is the L.Q.C. Lamar House Museum, built in 1869 and meticulously restored. This modest Greek revival home is worth a visit to learn about this remarkable man who became a leader during the years of slavery and the Civil War.
He is only Mississippian to serve on the Supreme Court and one of only two men who served in the US president's cabinet, in both the United States Senate and the United States House of Representatives. He worked hard to promote reconciliation between the North and the South and defended black voting and civil rights. Each of the four rooms of the home is devoted to a stage of his life.
Attend a festival, just about any week you go.
People in Oxford seem to love festivals, perhaps the second most popular activity behind legendary tailgates at football games in the Grove at Ole Miss. This 10 acres of slightly rolling hills filled with towering oaks and maples trees is Ole Miss' living room, and scene of massive pre-game parties where food is served on silver trays, alcohol is consumed from blue and red cups and chandeliers hang from tents.
If you can get yourself invited to a tailgate here, you're lucky enough to enjoy one of the most fun activities in Oxford.
Oxford is on the Mississippi Blues Trail so it's only fitting there are two blues festivals during the year. Blues Today: A Living Blues Symposium is in February, which seems perfect timing for me as it's generally such a dull, dreary month, why not wallow in a bit of the blues? Then in the sunnier month of June is the Oxford Blues Festival with outdoor performances.
Being a literary town, there's an Oxford Conference for the Book in March, the Yoknapatawpha Summer Writer's Workshop in June and the Faulkner and Yoknapatawpha Conference in July. (if you don't know where that name comes from, stop reading and Google it. You are not allowed to enter the Oxford limits until you know. There will be a test.) There are also craft shows, holiday markets and the University of Mississippi Homecoming Game and Parade in October. Forget trying to get a hotel room for that event.
One of the most beloved festivals is the Double Decker Arts Festival held the last weekend in April and attended by more than 60,000 people.
It began as a celebration of the bright red double decker buses Oxford brought over from England that make their cheery rounds all over the city, ferrying tourists on hour-long tours through the historic Square, through the Ole Miss campus and other sites of Oxford. The festival celebrates the arts, food and music of Oxford.
Take a Historic Double Decker Bus Tour.
When those double decker buses aren't being the star of a festival, they carry visitors on seasonal tours of the city of Oxford led by local historians. Private tours are available for booking as well.
I was lucky enough to take the tour twice, narrated by Jack Mayfield, a 5th-generation Oxfordian who knew everything and then some about Oxford. The first time we drove through the Ole Miss campus was during spring break, giving it a rather ghostly feel, and the beauty of the campus was the focus.
On my second tour the students were back, and the formerly deserted campus was filled with phone-toting, backpack wearing students scurrying off to class. Close to 24,000 students attend Ole Miss, which doubles the population of Oxford when school is in session. (Jack Mayfield has since died at the age of 71.)
Stay in a new upscale hotel, or settle into a college-themed hotel that's kind of like the dorm you wish you had had.
I stayed in the Graduate Hotel on both my visits to Oxford and was immediately charmed by its welcoming, bright lobby lined with bookcases. Only later did I realize the books were all sawed off to achieve that uniform look in the cases, but hey, it's still literary-themed, right?
Globes hung down from the ceiling and the floors were pink-painted hardwood. The lobby was elegant, a bit whimsical, but comfortable and the curtains were blue-and-white seersucker, the décor chosen in tribute to the sartorial elegance of the gentleman at Ole Miss tailgates.
A long table with plenty of light and charging stations that runs down the center of the lobby makes sense when I learned that students are encouraged to come study, hang out and eat at Cabin 82, where the coffee can centerpieces, checked vinyl chairs and wood-paneled walls covering the wall are welcoming and homey. (The name comes from the cabin number of the Manning family at the Neshoba County Fair.)
The café serves breakfast and lunch daily with items like breakfast sandwiches, a Hangover Breakfast with pulled pork and chow chow, turkey wraps, fried chicken biscuits and avocado toast.
The Coop is the lounge located on the terrace on the fourth floor with an unobstructed view towards the Square, a great place to unwind with a drink.
My room key was a replica of a student ID with a card catalog on the back. The rooms contain plenty of college-themed items, like lamps made out of trophies, nightstands made of trunks and my favorite, an old blue book for taking notes.
This 136-room hotel is a short distance from the Square and about a mile from the Ole Miss campus.
The upscale Chancellor's House has a fine dining restaurant, lobby lounge, patio terrace and tea room in the library where you can lift your pinkie and eat tiny cream-topped tarts at 12 and 2 every day. Two rooms have private balconies and pets are allowed up to 40 pounds.
It was also the scene of our celebrity sighting in Oxford. As we pulled out, we spotted Morgan Freeman pulling in, missing spying on him in the hotel by just a few minutes. I wouldn't have bothered him – I just wanted to listen to that famous voice in person. After living in New York, Los Angeles, San Francisco and Chicago, he returned to his roots in Mississippi and makes his home in the Delta, where he owns the Ground Zero Blues Club in Clarksdale, Mississippi.
Oxford, Mississippi, so charmed me I could actually see myself living there. Two things might be a hindrance – the nearest major airport is 90 miles away in Memphis, and I have no connection to Ole Miss, which may make me feel out of place. But I suppose I could always learn the Hotty Toddy cheer …
Special thanks to Visit Oxford for supplying several of the photos.
– By Jan Schroder, Editor-in-chief
Follow Jan on Instagram